<<< WORK BITCH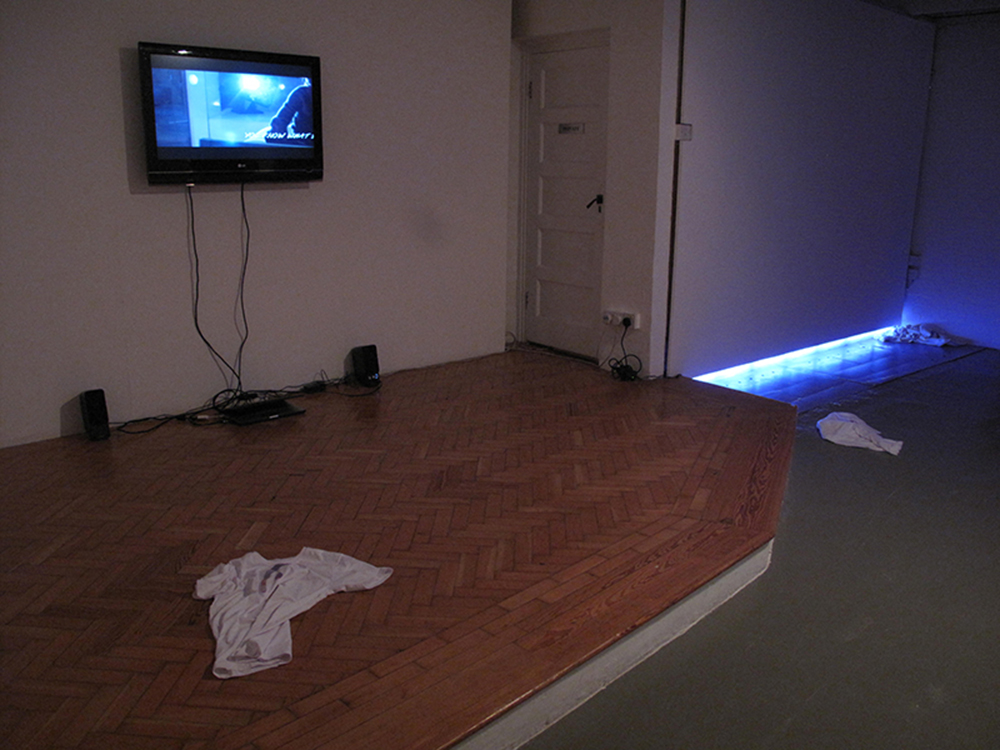 Standpoint Gallery, London
30 October 2013
Residency dates: 30 September – 8 November 2013

On the 27th October 2013, a structured experience and conversation developed by Candice Jacobs took place within an executive hotel suite for a selected group of artists and curators including: Attilia Fattori Franchini, Paul Purgas, Majed Aslam and Joey Holder.
Taking influence from the interior architecture of the hotel suite, a selected colour palette, electronic music, food and drink were used to generate a discussion that explores the immediate social, political and collective contexts and positions located within the work of Jacobs.
The event was documented in order to produce visual and audio content that locates itself somewhere between mindless act and subconscious collective feedback loop, the results of which are displayed in the gallery space.
The hospitality (prawn cocktail crisps, G&T 'disco cocktail' in designer plastic bottles) and motifs (T shirts, the studio lighting effects) act as echoes of the hotel event in the gallery space.
CDs were free to take away as a souvenir and include a DJ set by Paul Purgas in the hotel suite using the Roland 909 drum machine typical of 90s rave culture, the film displayed in the gallery also includes audio from this mix but from later on in the evening in the hotel.
Three texts were discussed in the hotel suite: Listen to Britney Spears – work is the new religion, in the Guardian 7 October 2013 by Federico Campagna; The cult of hard work has a sideline in partying till you drop. Who needs fulfilment or control over our destiny?; Resonance FM, Novaramedia, "The Crapulent Moronism of Will Hutton Or On Automation", 22 May 2013 (1:00:00) Aaron Peters and James Butler discuss automation, value, the secular crisis and the society of work: http://novaramedia.com/2013/05/the-crapulent-moronism-of-will-hutton-or-on-automation; and Understanding Media, The Extensions Of Man, Marshall McCluhan: 4. The Gadget Lover - Narcissus as Narcosis, 1964.
Yeah Yeah Yeah... 2013, the title of the film made by Jacobs was displayed on a flat screen in the gallery and included scrolling text to highlight the phatic language, repetition and critical statements brought up as a result of these discussions. The soundtrack to the film was played loud in the gallery to replicate the party atmosphere of the hotel suite.
Jacobs explores the meaninglessness of aspiration within affective labour and cognitive capital frameworks. Looking at ideas of collectivity via advertising, the television, the Internet, the workplace and the hight street, Jacobs uses repetition, futility and boredom to highlight power structures and gender within autobiographical bureaucratic and corporate value systems.


>CLICK TO ENLARGE IMAGES BELOW<