<<< NOT ME, BUT IT IS ME, IS IT ME? 2020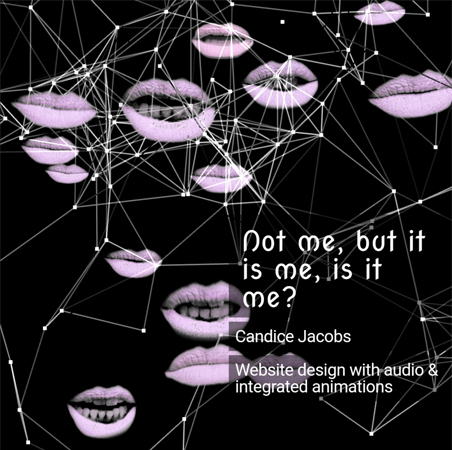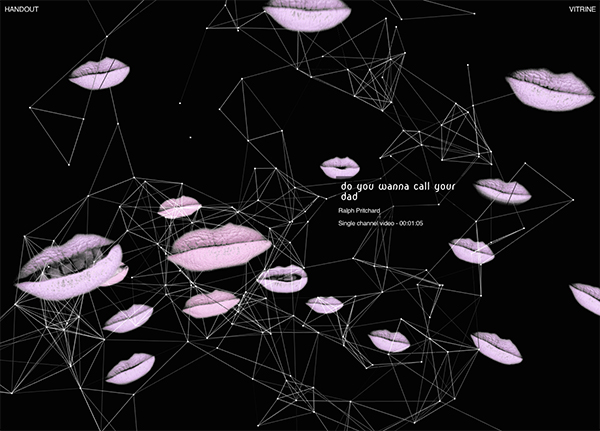 TO VIEW ONLINE WORK CLICK HERE

For VITRINE's digital gallery space commission called "Sounding Off 2.0", I considered the site as an artwork in itself, integrating animations that utilised my own voice and mouth.
'Not me, but it is me, is it me?' takes its inspiration from Samuel Beckett's "Not I" and involves an interactive network of nodal lips that activate when hovered over to speak the artist's name whose work the lips are harbouring.
The website was live on VITRINE during the first Lock Down of the COVID 19 pandemic in June until Nov 2020, after this time it was relocated to my own web domain: www.not-me-but-it-is-me-is-it.me with many of the artists works having had to be taken down, however the new web domain provides an example of its user interaction.
Artists in the project include:
Nadim Abbas
Nicole Bachmann
Edwin Burdis
Kara Chin
Anaïs Comer
Tim Etchells
Jamie Fitzpatrick
Ludovica Gioscia
Katrin Hanusch
Candice Jacobs
Sophie Jung
Rene Matic
Campbell McConnell
Paula Nacif
Milly Peck
Sam Porritt
Ralph Pritchard
Natasha Rees
Bioni Samp
James Stopforth
Charlie Godet Thomas
Special thanks to www.vitrinegallery.com and Technologist Brendan Oliver for making this a reality.



www.not-me-but-it-is-me-is-it.me