<<< THE DAY YOU WANT TO MEET YOURSELF YOU BECOME FREE, 2015
FACT, Liverpool (commission)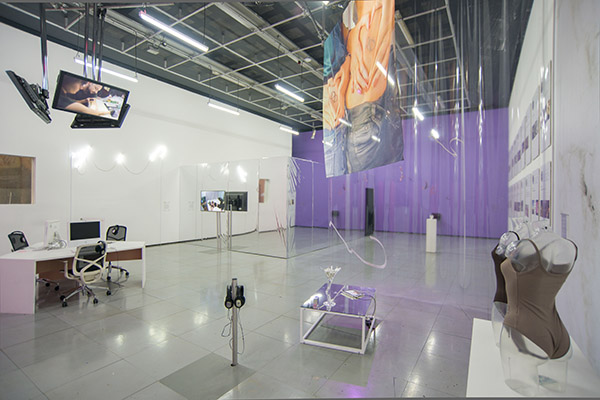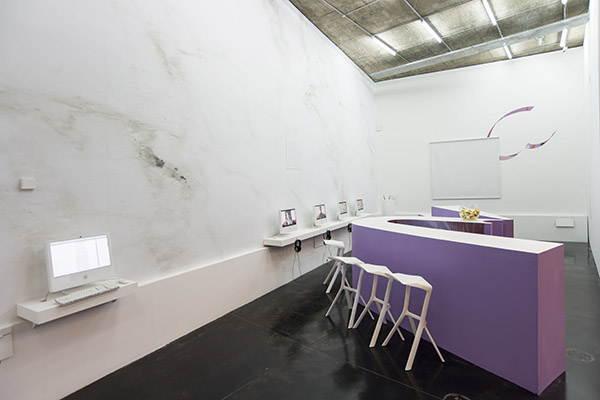 Mirror, digitally printed marble wallpaper from screensaver, clear PVC curtain, lighting gels, neon, digitally printed vinyl
Providing the exhibition design and aesthectic environment for FACT's galleries and resource area, Candice Jacobs' installation provides a coded language embedded with notions of consumerism, the "ultimate feminine aesthetic" and symbols of seduction, aspiration and desire.
Combining a quote from Prem Rawat, a spiritual guru whose work is connected to and has an impact on communities all around the globe, with television colour theory, Jacobs creates a backlight or staging that penetrates addictive habitual behavioural traits to encourage returning consumers to see into a new dimension.
Reflective materials, neon, shorthand motifs, television game show aesthetics, and deceptively marble-clad walls fill the gallery to divert your attention away from others and back to your self.
For more information please visit the FACT website here