<<< THE WELLNESS FORMULA, 2020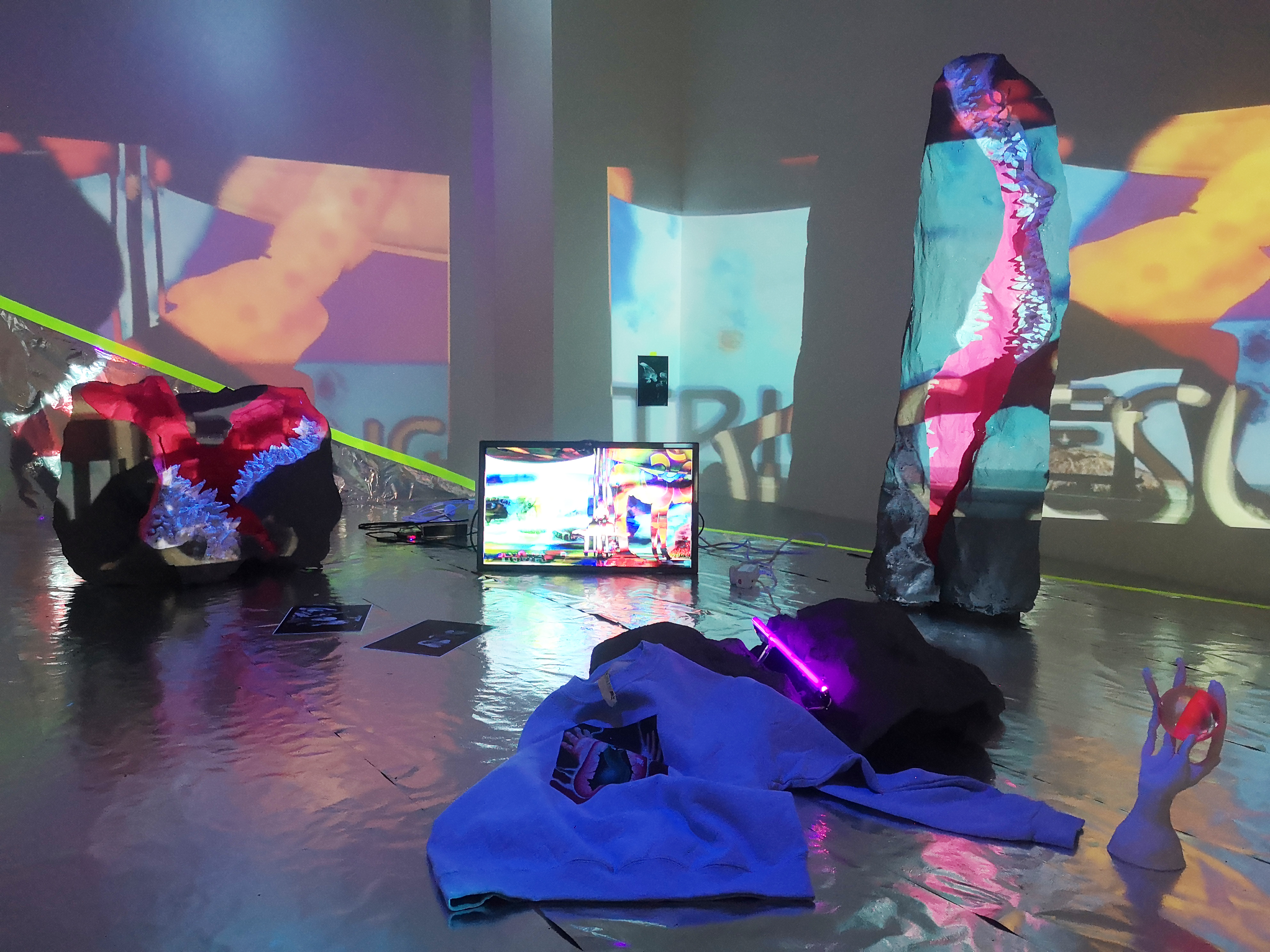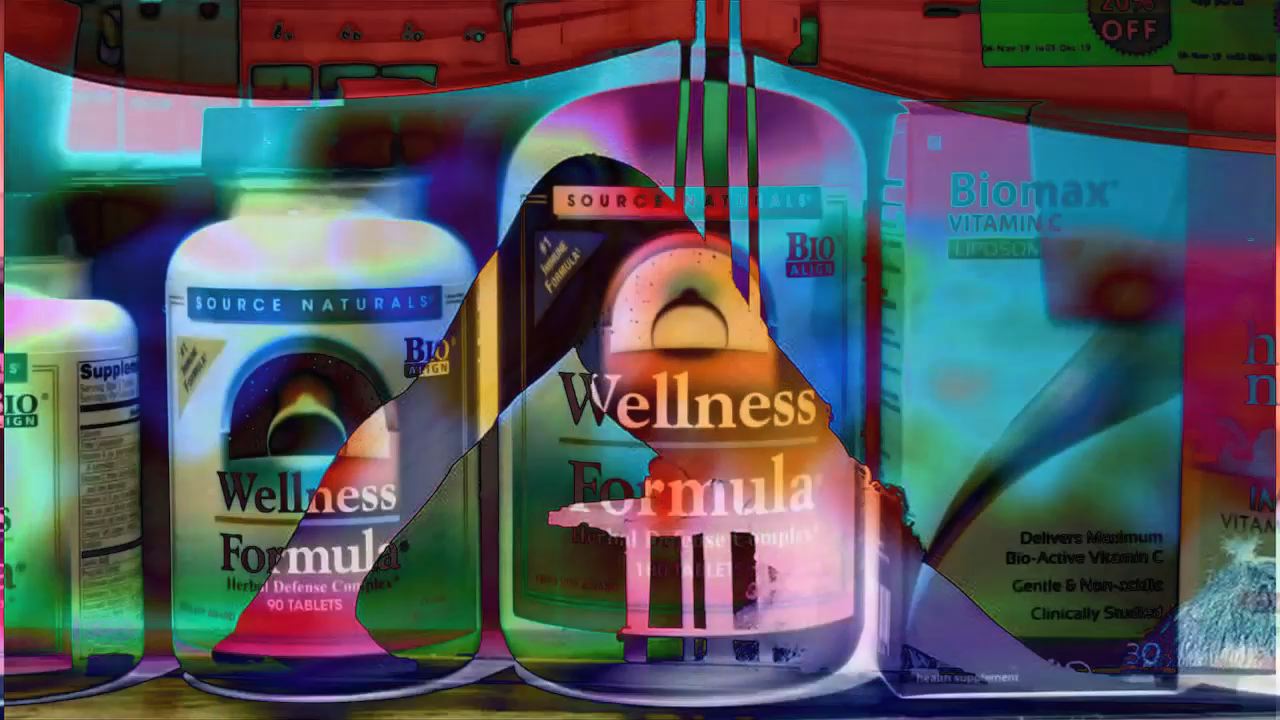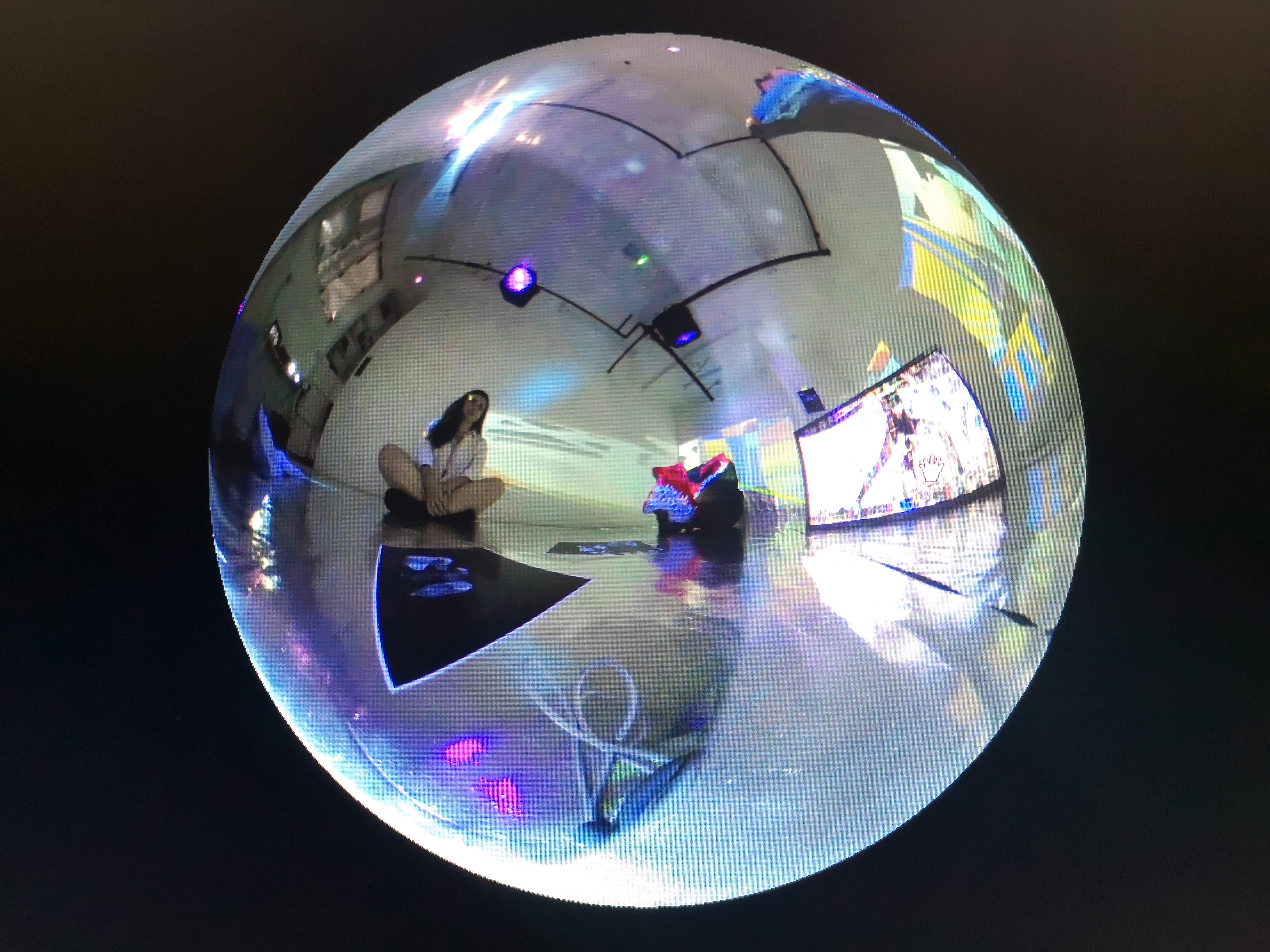 TO VIEW 360 VR DOCUMENTATION OF INSTALLATION CLICK HERE

TO VIEW THE FULL VIDEO CLICK HERE

TO LISTEN TO PODCASTS CLICK HERE


The Wellness Formula explored the concept of Spiritual Capitalism as a 20 min film, a TV studio & interactive online VR experience that hosted live performances within a landscape of paper mache amethyst crystals made from discarded tax returns, mirrored lakes made of tin foil, UV light & neon.
The video combines footage at a yoga retreat and the surrounding capitalisation of this wellness industry in Goa, India with similar ideals seen in the bougie-yummy-mummy-ville of Stoke Newington, London; and features the artist describing a prediction of the future taken from an Astrological reading of her birth chart back from before the Pandemic, in November 2019. Today, the reading is scarily accurate:
"Pluto and Saturn speak about something happening collectively, to society, in a bigger scale, a bigger entity. The moment in time when these 2 planets meet it is very dominant. When these 2 planets get together its like a explosion, there's something dramatic happening... where now you have Saturn transiting shows the things that you need to change, to transform, to mature. There might be a feeling of failure, of hard work, it is to come out stronger...
...Isolation, encapsulation, Saturn wants to encourage discipline and commitment... Its about deep inner work... Its fundamental, connecting to our shadows, what is underneath, what inside of us that needs to be purged in order to connect to a new space."
As more and more people appear to be turning towards spiritual practices as a strategy for dealing with the implications of an always-on-cuture - a coping mechanism for the current neo-liberal landscape; one that highlights the expectation that we need to deal with the anxiety of precarious living by looking inwards rather than outward to a landscape shaped by external forces beyond our individual control; the exhibition and its public programming (also curated by the artist), questions the ethics behind the exploitation of ritual, its connection to capital and its manipulation and extrapolation of the truth, using symbolic fictions to bend beliefs behind the shadows of the reality we are living in today.
How can we become most "ourselves" within a pre-determined system of ideals, and what psychic and emotional investments are we contributing to a system that shapes the core of our subconscious, bureaucratic, corporate, neo-liberal identity?
How do synchronicity & chance act as communication tools? How does truth form an alignment, and vibration a resonating reality? As time sits as a geological object, aspirational living acts as a form of spiritual capitalism, exploiting and taking advantage of forgotten histories.
Listen:
The Wellness Formula Sunday Service
Every Sunday Jacobs released a pre-recorded conversation between the artist and the following:
> Adrian Estment, Magical Landscape Astrologer
> Angelo Plessas, Greek artist and founder of The Eternal Internet Brother & Sisterhood
> Candida Powell-Williams, London based artist who explores the connections between action, storytelling, symbolism and magical thinking
> Christina Sol, a practicing Shamen in Mexico who uses Paloma Blanca (Ayawaska of the Moon)
> Tess Maclure, New Zealand based Journalist & deputy Editor of VICE, who wrote "Dark crystals: the brutal reality behind a booming wellness craze"
> Evelien Geerts, Philosopher, Lecturer and researcher of continental political philosophy/theory, epistemology & (feminist) science studies, critical and feminist theory at the University of Amsterdam, Utrecht University (ICON) and Linköping University (The Posthumanities Hub).
Live Online Events:
Artists Talk- Live broadcast
20 May 20207pm > 8pm
A conversation between Candice Jacobs and Artist & Programme Director of Fine Art at Central Saint Martins, Alex Schady documented via multiple mobile phones & Zoom.
The Wednesday Wellness Formula - Reading group on Zoom.
Weds 3 Jun 20206:30pm > 7.30pm Karen Barad's 'On Touching'
The Wellness Formula Dance Party - Friday night dancing on Twitch
Friday 5 Jun 20209.00pm > Midnight
DJ sets from:
> Paul Purgas - Artist & resident at Somerset House in London and host of BBC Radio 3's 'Late Junction: exploring India's electronic avant-garde"
> MacP - DJ and computer programmer from Berlin, contributor of Covidcore, a regular Drum & Bass and Techno party hosted on Twitch throughout lock down
> Jonathan P Watts - Writer, Lecturer, Curator & co-founder of Outpost Gallery and Lower Green Gallery in Norwich and host of Radio_Caroline, everyday at 6:30pm on Twitch throughout lock down.
This event was cancelled in order to support the Black Lives Matter protests taking place in London.
To view 360 VR Documentation of installation please click HERE

TO VIEW THE FULL VIDEO CLICK HERE