<<<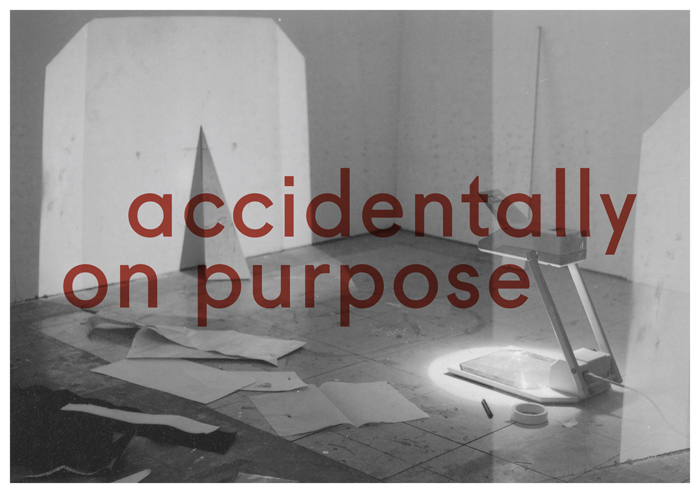 WWW.ACCIDENTALPURPOSE.NET
Accidentally on Purpose
A project by Candice Jacobs & Fay Nicolson in collaboration with QUAD, Derby
27 July - 7 October 2012
Becky Beasley
Rachel Lois Clapham & Emma Cocker
David Raymond Conroy
Karen Cunningham
Michael Dean
Cyprien Gaillard
Ryan Gander
Paul Graham
Fatima Hellberg
Franziska Lantz
Gil Leung
Andrew McGettigan
Jonathan Monk
Rose O'Gallivan
Edit Oderbolz
Francesco Pedraglio
Dan Rees
Clunie Reid
George Shaw
Alex Vasudevan
Ryszard Wasko
Accidentally on Purpose explores relationships between success and failure using common place materials, everyday situations and repetitious processes as a point of departure. Artworks grapple with their materiality, context or the processes that bring them into being; challenging the frameworks we use to judge success or validate an aesthetic decision, sincere message, or logical action. Objects, images and words test their own limits, and in doing so, re-negotiate and redefine their success or failure, intention or meaning.
The exhibition takes its title from an American sitcom that is situated in the banality of the everyday. The sitcom characters strive to make the best of an unfortunate situation; repetitively re-negotiating the uncertainty of their lives. Ironically, after being shown on television every week for 18 weeks, the show proved unsuccessful and was axed.
Exhibition Soundtracks
Karen Cunningham, Franziska Lantz, Jonathan Monk, Ryszard Wasko
There are a series of soundtracks developed by invited artists to accompany Accidentally on Purpose. Each soundtrack can be listened to on headphones whilst navigating the exhibition. Assembled from made and found audio these soundtracks offer alternative and sensorial ways of exploring the exhibition within a formal gallery setting.
Online Project
www.accidentalpurpose.net
Accidental Purpose is an online project featuring more than 100 invited artists, writers and curators. Existing as an evolving compendium, Accidental Purpose displays images, animations, videos and texts using incidental strategies of display, changing every time you visit the site. The website can be viewed from QUAD's Resource Area and online at www.accidentalpurpose.net
Contributors include: Jonathan Allen, Kari Altmann, Marie Angeletti, Majed Aslam, Nathan Barlex, Vanessa Billy, Simon & Tom Bloor, Beth Bramich, Stella Capes, Martin Cole, David Raymond Conroy, Mike Cooter, Rhys Coren, Patrick Coyle, Kit Craig, Elena Damiani, Siân Robinson Davies, Simon Davenport, Stephane Devidal, Hugh Dichmont, Marjolijn Dijkman, Grazyna Dobrzanska-Redrup, George Eksts, Mark Essen, Leo Fitzmaurice, Jess Flood-Paddock, Ed Fornieles, Tom Godfrey, Florian Göttke, Oona Grimes, Colin Guillemet, Fatima Hellberg, James Hines, Paul Housley, Rowena Hughes, Leslie Kulesh, Candice Jacobs, Nick Jenson, Aaron Juneau, Robert Leckie, Jonty Lees, Gil Leung, Rob Lye, Barbara Rodriguez Muñoz, Harriet Murray, Kryssy Naylor, Benjamin Newton, Fay Nicolson, Rose O'Gallivan, Sally O'Reilly, Berry Patten, Yelena Popova, Henrik Potter, Emily Price, Ruth Proctor, Pedro Cid Proença, Richard Rigg, Alex Ross, Giles Round, Samara Scott, Erica Scourti, Tai Shani, Berndnaut Smilde, Oliver Smith, Jack Strange, Chooc Ly Tan, Neil Taylor, Oliver Tirre, George Vasey, Joey Villemont, Dominic Watson, Joe Welden, David Ben White, Laura Wilson, Jesse Wine
Please click here to visit the website
Closing Event
Strategies for approaching repeating problems
6 October 2012, 10am – 5pm, The Box, QUAD
Emma Cocker & Rachel Lois Clapham, David Raymond Conroy, Fatima Hellberg, Gil Leung, Andrew McGettigan, Francesco Pedraglio, and Alex Vasudevan.
This closing event offers a series of performances, presentations and talks around Accidentally on
Purpose and associated issues in contemporary cultural production and discourse. Taking the notion of a repeating problem as a starting point, invited artists, writers and curators discuss whether notions of progress or return are clichés or inevitable fates.
----
Accidentally on Purpose, QUAD, Derby
July 27 - October 7 2012