<<<

Self Centered Yet Seductive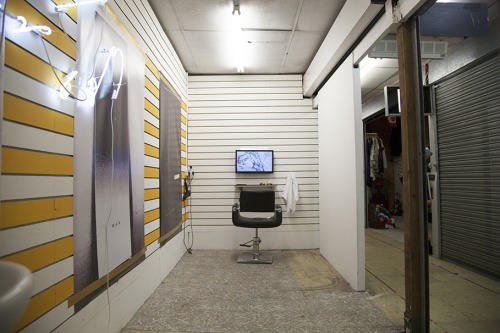 DKUK, London
Saturday 29 November – Wednesday 24 December 2014

DKUK is pleased to present Self Centered Yet Seductive by Candice Jacobs, the second in a series of site-specific artworks at the salon. The show is an extension of Jacobs' two part solo exhibition INHALE and EXHALE which originally took place at Project Number, London (Sept/Oct 2014) and continues at Cactus, Liverpool (Jan/Feb 2015).
INHALE and EXHALE take their titles from a series of new products launched by a well-known cosmetics company. Jacobs looks at their marketing strategy as a production line for the achievement of femininity, serenity, masculinity and tranquility. She uses these affirmations to explore - via a wide range of media - the structures and strategies employed within affective labour, corporate aesthetics and habitual practices to consider the way their semantic language creates a new sense of collective consciousness driven by advertising, television, the internet, gender and the workplace.
For Self Centered Yet Seductive, ideas of INHALE and EXHALE will be developed in response to the particular context of the DKUK salon environment.

For further information visit:
www.dkuksalon.tumblr.com

DKUK, K&S Indoor Market, 135a Rye Lane, Peckham SE15 4ST
Open Wednesday – Sunday, 1-6pm
To make an appointment call: 07957 383952
For enquiries, please contact dkuksalon@hotmail.com
>CLICK TO ENLARGE IMAGES BELOW<